Delivering Dreams International Surrogacy Agency Brings the Opportunity of Affordable Surrogacy in Ukraine to Couples With an Information Webinar

Delivering Dreams International Surrogacy Agency, located in New Jersey, Lviv, and Kyiv, Ukraine, is excited to announce it is hosting a free informational webinar on Ukrainian surrogacy Saturday, Marcy 7th, 2020 from 10:00-11:00 AM EST.
Surrogacy in the US is very expensive. Delivering Dreams International Surrogacy strives to offer the most affordable programs with extraordinary service and results. The cost of surrogacy in Ukraine is much more affordable due to the difference in economies. Surrogacy programs with Delivering Dreams start under $50,000. They also offer unlimited transfer/guaranteed programs.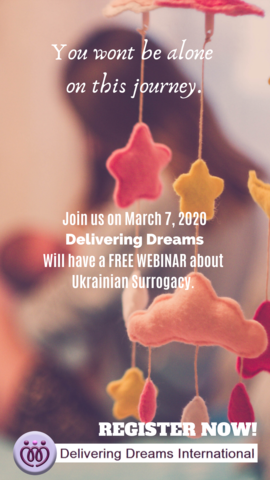 Ukrainian surrogacy offers the opportunity to create a family in a safe legal environment that protects the rights of the intended parents and their child from conception. There are no wait times for their programs. Surrogates and donors are comprehensively tested and immediately available for matching. Your child will be a US citizen from birth, and you can be home with your child in a few weeks after delivery. Register Now to learn about this opportunity.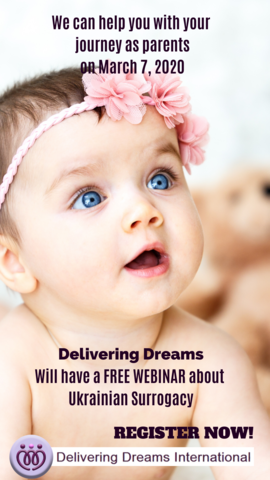 Delivering Dreams International Surrogacy Agency provides ethical, personalized and responsive service throughout the entire surrogacy journey, from application and document preparation to bringing your newborn home. They have been successfully creating families since 2007.
"We know you want a baby more than anything. Of course, you do. But that doesn't mean you count on a wing and a prayer." Says Delivering Dreams International Surrogacy founder Susan Kibler. Delivering Dreams has worked to mitigate negative outcomes and risks from your surrogacy journey and ensure success.
These risks include:
Pregnancy and birth
Surrogate and donor screening
Pregnancy complications for your surrogate and your child
NICU and after birth treatment
Conflict of interest
Ukrainian contracts
Payment schedules
Rising costs
Cultural differences
Communication
Surrogate's pregnancy lifestyle
"We have worked out solutions to limit these risks and ensure a successful surrogacy. We worry so you don't have too!" says Kibler.
You must attend if you:
Explored surrogacy in the US and found it unaffordable
Don't want to wait any longer and want to start now
Want to work with someone local who has walked in your shoes
Afraid it won't be successful
Have unanswered questions and concerns about international surrogacy
Are confused and overwhelmed by information and don't know what to believe
Want to understand the details of the process fully before you start your surrogacy
Worry about the legal protections for you and your child
Fear language difficulties, poor communication, and distance
Are afraid of uncontrolled and unexpected costs
Want to feel safe and never taken advantage of
Under Ukrainian law, surrogacy is available to all traditionally married couples who are unable to carry a child or have experienced 4 or more unsuccessful IVF attempts.
Kibler says "We look forward to speaking with couples about the surrogacy process, our success rates, the cost of surrogacy, and different unique situations."
Delivering Dreams will also be in Dublin, Ireland offering in free private in-person consultations March 21st and 23rd. Sign up here.
They will be attending the Growing Families Conference as a keynote speaker in Dublin, Ireland March 22. Find out more information about this event here.
More about Delivering Dreams' Webinar Information Session:
When: Saturday, March 7, 2020, from 10:00-11:00 AM EST
Cost: Free to all with registration
REGISTRATION IS REQUIRED: REGISTER HERE
REGISTRATION CLOSES MARCH 6TH
More information about Delivering Dreams International Surrogacy Agency at https://international-surrogacy.com/surrogacy
For any intended parents interested in having the best Ukrainian surrogacy experience should not hesitate to call +1 908 386 3864 (same for Viber and WhatsApp), or email: [email protected] or visit www.delivering-dreams.com
Media Contact
Company Name: Delivering Dreams International Surrogacy Agency
Contact Person: Susan Kibler
Email: Send Email
Phone: +1 908 386 3864
City: Califon
State: NJ 07830
Country: United States
Website: www.delivering-dreams.com