PubHTML5 Releases a Brochure Maker for Real Estate Agents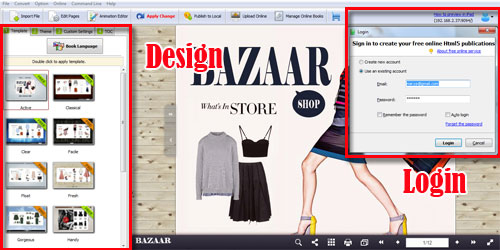 The brochure maker helps real estate agents design brochures with interactive elements that help market their properties.
PubHTML5, a specialist in digital publishing software development, has released a brochure maker for real estate agents. The new software provides solutions that realtors have been looking for in order to get their properties marketed online. It offers powerful features that help to make properties look great to potential customers. PubHTML5 makes it easy to create high quality and professional brochures using customizable templates and themes.
Real estate e-brochure helps agents vividly present their listings to many people across the world and make deals faster. PubHTML5 offers a selection of features and built-in templates so that users can enjoy great designing experiences. The brochure maker has upgraded design aspects that can create exceptional brochures that will get the audience hooked. Realtors can personalize their creations using creative elements such as graphics, videos, music, logos, colors, and other design features.
"At PubHTML5, we understand that realtors must have a brochure that can help them elegantly present their properties in a way that will wow audiences and prompt them to buy," said Jason Chen, CTO (Chief Technology Officer) of PubHTML5. "Our brochure maker is meant to help them create stunning brochures that will enable their listings to sell fast online. Using the available features and functionalities, they can customize property photos, personalize their messages to give readers a view and feel of the homes they are going to purchase."
PubHTML5 allows real estate agents to present the best features of their properties through interactive videos and compelling photos that convince customers to consider purchasing or renting the property. They can use stunning brochures to highlight real estate buildings, commercial property, houses, apartments, and condos. Whether they have design skills or not, PubHTML5 allows them to design impressive brochures by utilizing easy-to-use tools guided by the demos provided.
Realtors can now provide lists of amenities and other features of their properties to potential buyers online, thanks to PubHTML5. By including clear photos and illustrations, clients are likely to contact them for viewing appointments. They can also include the little details to make houses more attractive and appealing. In this way, they can create first impressions about their properties.
For more information, please visit https://pubhtml5.com/
About PubHTML5
PubHTML5 is a Hong Kong-based software developer who has been at the forefront of effective digital marketing techniques for years. The company partners with different industries and individuals to help them actualize the benefits of digital marketing and online exposure.
Media Contact
Company Name: PUB HTML5
Contact Person: Anna R. Jarvis
Email: Send Email
Phone: +86 020-61972665
Country: China
Website: https://pubhtml5.com/