Villa Adriatica by Abruzzo Villas Offers its Rentals in Abruzzo Italy for Yoga Retreats
Pescara, Italy – After specializing in managing the luxurious and exclusive Italian villa, Abruzzo Villas now offers Yoga Retreats in its rental villa – Villa Adriatica. This Yoga retreat in Italy is for Yoga enthusiasts and travel lovers who want to practice Yoga and explore Italy's Abruzzo region.
Abruzzo Villas is offering Yoga retreats in 'Villa Adriatica'; one of its managed rentals in Abruzzo, Italy. The highlights of this Yoga retreat are that it will be conducted under the supervision of an ERYT-500 qualified Yoga Instructor – Francesca Bonta, who will take her clients through a Chakra Exploration to find balance mind, body, spirit – hence the retreat is titled "Equilibrio". The Yoga retreat will be for 7 days which will include various yoga sessions, meditation, workshops, hikes and outdoor yoga activities.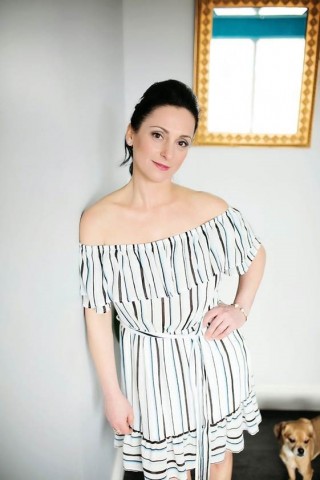 The Yoga instructor, Francesca, has a unique teaching style with over 30 years of experience. She has led hundreds of yoga retreats, attended numerous retreats, workshops, and classes around the world; in this way, her wisdom based on this experience has equipped herself to meet the needs and expectations of people attending the retreat. She is an expert in Slow Flow, Vinyasa, Yin, Hatha, Restorative & Aerial Yoga. In addition, she is a Yoga Therapist and Healer certified in Chakra Therapeutics Practitioner & Reiki Master. Her idea of teaching is to guide the participants to a space that feels safe and sacred. She uses various meditation practices that will assist anyone in finding the place of bliss. The Yoga classes will be both dynamic and engaging, giving participants an opportunity to flow through various poses of different Yoga styles.
For practicing Yoga, a peaceful place, surrounded by nature, is favorable. This is what Villa Adriatica offers. It is situated in the vicinity of Europe's largest natural park and Adriatic coast; thus, it is close to Abruzzo beaches, mountains, and nature. It sits on the 50,000 Sqm of private land where organic fruits grow, and it is surrounded by 100 olive trees. The villa boasts panoramic views of the Adriatic Coast, Abruzzo mountains and Medieval Villages. Its high ceilings allow natural light and fresh air to enter. Guests can use the terraces for al fresco dining while enjoying views of Abruzzo landscapes comprsing for of the Adriatic coast, the Majella mountains, countryside and sunsets.
The 600 Sqm layout has air-conditioned bedrooms and is designed to accommodate up to 12 guests. Each room has en-suite bathrooms, sommier beds, and management can arrange extra sleeping arrangements if required. Facilities include complimentary Wifi internet, fully equipped modern kitchen, BBQ, telepohe for free local calls, a movie library and ample car parking.The Villa is a 10-minute drive from Pescara airport, 2 hours drive from Rome, and a 10-minute drive from Pescara train station and main bus station. The participants can explore Europe's largest natural reserve park which is 40 minutes drive from the Villa, Medeival Villages and Pescara city center to enjoy Italian cafes, the Adriatic beach, Italian dining, shopping and nightlife.
About Abruzzo Villas:
Abruzzo Villas manages Villa Adriatica, a beautiful vacation rental in Abruzzo that can be booked online on https://www.abruzzo-villas.com where the cool breeze from the Adriatic Coast provides guests a relaxing stay. This accommodation in Pescara Italy is located in Abruzzo Italy and amongst all rentals in Abruzzo Italy and villas in Pescara, this exclusive Abruzzo accommodation offers an excellent location for travelers wishing to explore the Abruzzo region. This Abruzzo self-catering accommodation offers all the facilities to include a fully equipped modern kitchen, Wifi, comfortable rooms with en-suite bathrooms and spectacular panoramic views of the Adriatic Coast, the Abruzzo mountain range and medieval towns. The terrace offers a space to enjoy meals "al-fresco" while admiring views and sunsets. With all the vacation rentals Abruzzo Italy has to offer this is where to stay in Abruzzo as it places guests in a peaceful setting, all with close proximity to those wishing to visit the Apennines Mountains, beaches of blue Adriatic Sea and explore Italy's most beautiful medieval villages.
Address: Contrada Collevento, 66, 65015 Pescara PE, Italy
Media Contact
Company Name: Abruzzo Villas
Contact Person: Daniela
Email: Send Email
Address:Contrada Collevento, 66
City: Pescara
State: PE, 65015
Country: Italy
Website: https://www.abruzzo-villas.com/