Unyell, Fire Alarm Shield to Shut False Fire Alarms, Launched on Kickstarter
November 8, 2019 – When the news of dinner being ready is conveyed by the smoke alarm going off, it's time to install UNYELL. The innovative, yet simple to use Unyell Alarm Shield has made its debut on Kickstarter as a unique home gadget that everyone must-have.
UNYELL is meant to render a great service – stop that highly annoying, irritating and false fire alarm from going off again. Especially while cooking, or at night!
A recent study by the NFPA revealed that there over 2,238,000 false fire alarms attended to by the US fire department. Despite causing a colossal waste of manpower and resources, fire alarms are there to save lives and simply cannot be taken off.
Unyell is a unique, patented, cover-fit-all device that's designed to protect smoke alarms and stop the nuisance of false fire alarms.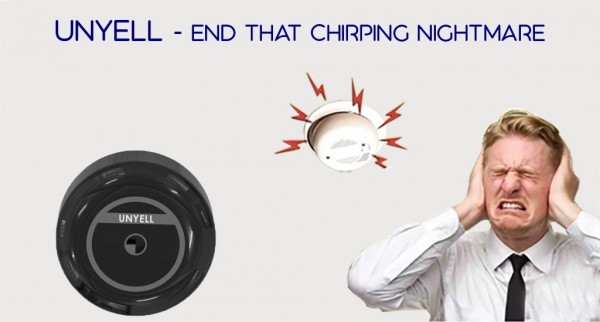 False alarms go off in a number of situations, and Unyell can handle all of them: too much smoke due to cooking, debris and smoke due to fireplaces, shower steam, high humidity, bugs, or dust and debris and other disturbances caused by house renovations and paintings.
Unyell is molded from a virtually indestructible, heat resistant and UV stabilized polycarbonate material. The pellets inside absorbs CO2, and the device can be easily stuck over the fire alarm using a handle.
"Now there is no need to dance around the room wafting air or poking the sensor just to get it to shut up. Unyell makes your life easier while also protecting the alarm that protects you," says inventor Francis Odogun.
"Thanks to Unyell, I am now able to deep fry my Biegnets without that shrieking hell of a nightmare," says a recent user.
Unyell is easy to use, protects against dust, heat and debris during building renovations or painting, and keeps the alarm quiet while cooking or when not needed.
Inventor Francis Odogun is the creator of Scentify Smoke Freshly (www.smokefreshly.com) and Sharputo, a work in progress. A techie by training, his everyday passion is to create new products that solve the common problems of life.
Support Unyell on Kickstarter: https://www.kickstarter.com/projects/1844048476/unyell-stop-nuisance-alarm
Media Contact
Company Name: Unyell Alarm Shield Inc
Contact Person: Francis Odogun
Email: Send Email
Country: United States
Website: https://www.kickstarter.com/projects/1844048476/unyell-stop-nuisance-alarm