Actor, Entrepreneur and Activist Lahsann "La" Cunningham-Rogers has One Lucky Day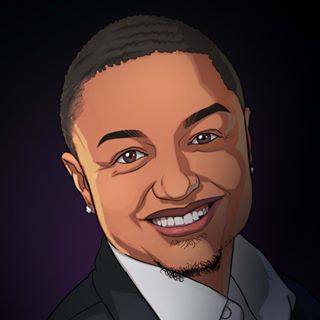 November 6, 2019 – Suffolk county election candidates are interested in Lahsann "la" Cunningham Rogers and his recent achievements, which include the just released book, "One Luckì Day: BITA: Volume 1".
"One Luckì Day: BITA: Volume 1" is a short story that explores the meeting of two hearts under extraordinary circumstances all after the tragic death of one of their parents.
Little did Lahsann, a writer, music executive, actor, real estate professional and ex stock broker, know that his life will transform right before his eyes as he ventured to meet the candidates running for various Suffolk County Executives seats.
This was the author's "one lucky day" – he got to question the politicians on local real estate issues the politicians took an interest into Mr. Lahsann Cunningham-Rogers work as an American citizen from Suffolk County New York. Lahsann rubbed shoulders with Gregory Fischer, who has received the Libertarian Party nomination to run for Suffolk County executive. Steve Donnelly, the reigning Suffolk executive, as well as Victoria Gumbs Moore, who is a candidate running for the Suffolk Family Court Judge office. All of them support the author and recommend his book.
Steve Donnely: "Lahsann is an outstanding young man with a captivating story to tell and insight on how to better Suffolk County and the world around him. He has stories to tell. Now I just need to find the time to read his first book. Between governing Suffolk County and keeping a happy wife; finding recreational time has been difficult"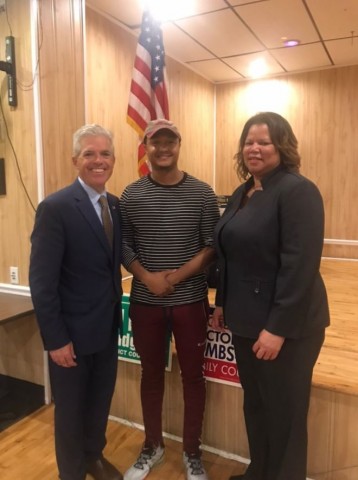 One Luckì Day: BITA: Volume 1 was also seen in the hands of Attorney Stewart Moore, the founder of the Black Bar Association and well-known council in Suffolk County. Sources say Lahsann is writing volume 2 of 10 along with a black financial literacy book for all that will help readers be more opt to building wealth by ways of investments and insurances. Celebrity figures like Korey Wise of the Central Park Exonerated 5 is reading the book. Retired Ravens NFL player and author Stevie Baggs Jr has also co-signed "One Luckì Day: BITA: Volume 1".
The book welcoming Lahsann to the "authors club".
"This was my one lucky day. I am humbled by all the attention that my outreach has received, especially from such power influencers," said Lahsann "La" Cunningham-Rogers.
Lahsann owns Music Only Records Entertainment (MORe), where they plan to continue to produce films, shows, music, writings, and more. Sources has it that MORe will soon be developing an awesome MUSIC ONLY RECORDS E Phone App that'll allow users to set up their artists accounts with the company seamlessly and easily. It'd be great to see new members receive a free copy of the book "One Luckì Day: BITA: Volume 1".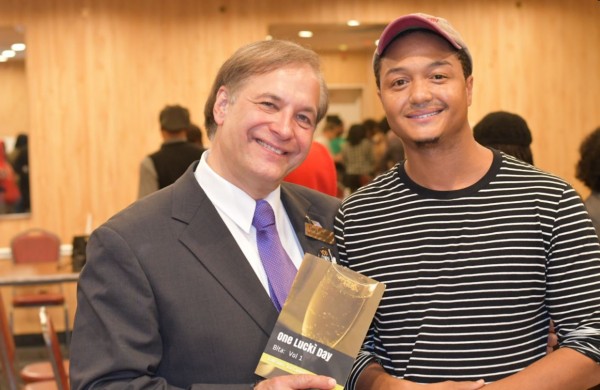 BITA volume 2, is titled 'TOMM – BOI', which will cover the main character Jade's childhood growing up as a cocaine farmer's daughter in Mexico.
"Live in your imagination, and tomorrow they'll be fascinated," says Lahsann.
Lahsann retired as a financial advisor from wall st in 2008 prior to receiving a bachelors in business in 2015. His, educational background, industry know how and experiences will make Lahsann an excellent addition to the world of entertainment and politics. He has a vigorous determination for the greater good of humanity. Recently selling a property to one of the Sheriffs at the Suffolk County District Court Lahsann wants to continue to serve the community as a public figure who can aid in all matters concerning real estate, investments, public issue and entertainment. Ultimately, Lahsann wants to help the masses sustain a life full of good health and wealth.
For more information, or to preview "One Luckì Day: BITA: Volume 1".
Visit: www.lahsann.com, for Real Estate Services www.lahsannrogers.com, for "Be With Me", his first single www.musiconlyrecords.com. THANKS FOR VOTING!
Contact:
Music Only Records Entertainment
Instagram: @say_it_aint_sold, @commercial_residential, @musiconlyrecords
Twitter: @laatnightb
Media Contact
Company Name: Music Only Records Entertainment
Contact Person: Customer Service
Email: Send Email
Country: United States
Website: www.musiconlyrecords.com