New Cryptocurrency Aims to Level The Playing Field Between the 1% and the 99%, Compete with Bitcoin for the Underdog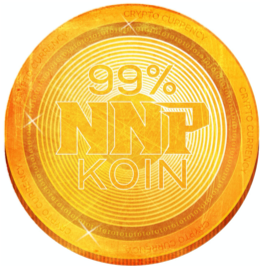 The marketing company tasked with helping to launch a new cryptocurrency, built on a fork of cryptonote (the same blockchain Monero was built on), is launching several crowdfunding campaigns this month.
Founder of NNPKoin (or the 99% coin), Dan DeFoe said, "the focus of the currency is to help balance the scales between the wealthy 1% of the globe, and everybody else."
He confirmed that there would be no official ICO (initial coin offering) as that has traditionally just been an easy way for wealthy crytpcurrency owners to purchase larges sums of a new currency.
"The project is not designed to make anyone rich," said DeFoe. "It is simply meant to support individuals, groups, events and organizations that are working hard to solve the problem of global financial inequality. The aim of this cryptocurrency is to create a coin that is only used to help balance those scales. We are not supported by, and never will be supported by any political or religious organization."
DeFoe elaborated that more details will be provided to supporters of the project, which is currently looking for an additional $300 to complete the last few hours needed to test the blockchain and complete the website.
Supporters donating $300 or more will be mentioned (along with a URL link when requested) on a "Sponsors" page to be created on the website.
DeFoe acknowledged that there are inherent risks in the venture. "There are risks to develop anything in the crypto world," he said. "Working with freelance developers has so far worked perfectly. However, there is always a risk when working with contractors that they will not fulfill their obligations. The entire industry has been rocked by scams and an overall lack of transparency. So, our first objective will be to earn trust."
Currently the project is 95% done. The blockchain is built and the company is beta testing both the wallet and the CPU/GPU miner.
The coin will be mine-able via CPU and GPU. For the time being, NNPKoin is trying to stay off cryptocurrency exchanges in order to discourage very wealthy investors (whales) from purchasing large volumes of the currency.
As the project progresses individuals whose stories touch a nerve will be awarded with an as yet undetermined amount of the coin.
The international project started with a total of three phases predicted to complete the project. DeFoe claims that they are at the tail end of the third phase and this may very well be the final benchmark requiring outside support.
"Not everyone can help support the project financially, we understand that. For people who want to help crush poverty and global inequality but only have a little extra time as a commodity, please share our site or our social profiles on your social profiles. That will help tremendously and you will be an active part in ending global financial inequality," said DeFoe.
For those withing to donate cash or a cryptocurrency, this can be done via the nnpkoin.is website. Alternatively, social links and fundraising links can be found below.
For additional information, visit NNPKoin website at www.nnpkoin.is
For those wishing to donate can do so via the NNPKoin website, or through on of the crowdfunding campaigns below:
https://www.indiegogo.com/projects/help-us-finish-the-nnpkoin-website/x/22533079#/
https://www.gofundme.com/f/help-us-finish-the-nnpkoin-website
Socially, NNPKoin can be found here:
https://www.facebook.com/NNPkoin/
https://twitter.com/nnpkoin
https://www.instagram.com/nnpkoin/

About Us:
NNPKoin has one simple purpose: to pioneer a cryptocurrency for us and our fellow global family to support income inequality and shine the light on wealth concentration. This currency will serve one central purpose: To fund and support individuals, peoples, groups, organizations, programs and events that are non-political and non-religious and whose primary focus is to balance the scales of global inequality with a digital currency specific to balancing the scales of global equality.
Media Contact
Company Name: NNPKoin
Contact Person: Daniel DeFoe
Email: Send Email
Country: United States
Website: https://www.nnpkoin.is/