Concocted Gospel by Zolile Ntshona – a Christian Book that is a Must-Read for all Christians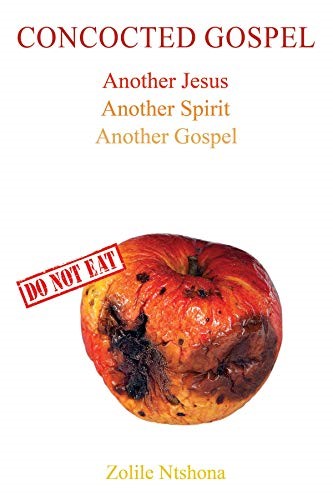 Pietermaritzburg, KwaZulu Natal Province, South Africa – October 15, 2019 – Many Christians, born again or otherwise inadvertently get entrapped in false ministries or intentionally get into other abominations. With the rapid growth of false ministries and the inter-connected fabrications, someone needs to call it out and make believers return to the path of God. "Concocted Gospel" by Zolile Ntshona does just that. The book points out false Gospel, false ministries, and false ministers. This is to ascertain that believers don't spend their faith in a false Gospel.
Concocted Gospel is written for born-again Christians, born-again Christians who deliberately deviated from the principles of Christianity to form sects, born-again Christians who accidentally joined sects, ministries that err but are not yet sects and people who are not born-again – Ntshona presents case studies about falsification of the word of God which include historical events from the Old Testament to the New Testament.
The author dexterously makes relevant correlations and comparisons to the current fabrications. Besides case studies taken from the word of God, Ntshona also penned case studies from the present dispensation in a bid to be comprehensive. These case studies are instrumental in comparison to fabrications occurring currently.
"The book is extremely necessary to read because the growth of false ministries is misdirecting many people," says Zolile Ntshona. "The book almost didn't see the light of day as publishing and marketing were very troubled. That was before Toplink contacted me and God willing they became my publisher and marketer," he added.
Also, in the Concocted Gospel, Ntshona has outlined false ministries and backed the outline by insights on how to tackle them. He also wrote about fundamental approaches that believers ought to know so that they are empowered to weed out false Gospel. The best part of this book is the details on the type of false ministers present to people, their invasion of the church, and the strategies to deal with false ministers. It focuses mostly on examples of false ministries started by people who once were born-again.
With a positive tone incorporated in the Concocted Gospel, it advises people deviating from God, succumbing to falsified faith and people manipulating the Gospel without sounding preachy – the arguments are hard, the words, soft.
For more information, visit https://www.amazon.com/Concocted-Gospel-Zolile-Ntshona-ebook/dp/B07T1FB2DM/ref=tmm_kin_swatch_0?_encoding=UTF8&qid=1561412409&sr=8-1
About the author
Zolile Ntshona worked as a researcher for two universities and a public entity. His work focused on sustainable livelihoods and rural development. Passion for writing Christian books started in 2011, following an accident that resulted in Traumatic Brain Injury and severe head injury. In 2014 he published a manuscript on factions between saints and its underpinning factors. In 2016 a book on misinterpretation of the law of God. Following his work, he discovered that some believers are deviating from the canon of Christianity and are transferring their allegiance to false gospel, prompting him to write Concocted Gospel.
Social Media Accounts:
Facebook: https://www.facebook.com/Zolile-Ntshona-487053978709942/
Twitter: https://twitter.com/AuthorNtshona
Tumblr: https://authorzolilentshona.tumblr.com/
About Toplink Publishing
Toplink Publishing offers highly scalable platforms that are growing quickly, positioned to become the global leader in accessible and strategic publishing and marketing solutions. For new book/books to publish or publicize one's published work, contact by calling 1-888-375-9818.
Media Contact
Company Name: Toplink Publishing
Contact Person: Zolile Ntshona
Email: Send Email
Phone: 888-375-9818
City: Kelly
State: North Carolina
Country: United States
Website: https://www.toplinkpublishing.com/