Mobbed Up Records Announces Charity Fundraiser in Support of Disabled Children at The Forge, Joliet IL

October 9th, 2019 – Mobbed Up Records, the full-service management company, is throwing a special charity fundraiser concert in support of disabled children. "Rock Out For Children" will be held on November 30th, 2019 at 4.30 PM. at The Forge Concert venue located at, 22 W Cass St., Joliet, Illinois 60432.
The host for the evening will be #Goat from Full Throttle Saloon. The first three bands and an opening act have been finalized: Opening is Bill Buccellato and the bands booked now are Convoy, Midnight Sinners and Some Years Later. With an additional band also being booked, the proceeds from the concert will be donated to Cornerstone Services based out of Joliet, IL.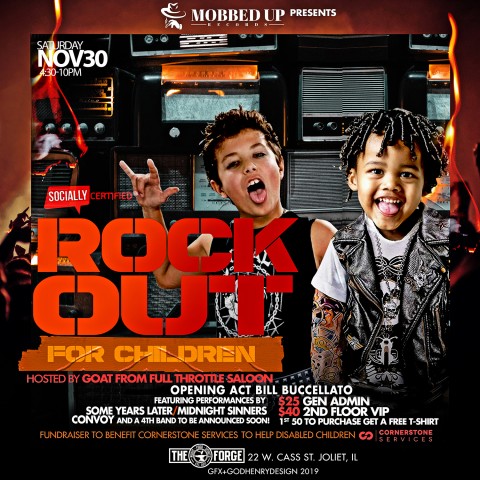 Share and RSVP: https://www.facebook.com/events/552875582115707/
Cornerstone Services is a great organization and is known to help out many underprivileged and people in need. The focus of the charity concert will be to raise funds for the disabled children. Venue owners The Forge are also great friends of Mobbed Up Records, and have agreed to donate a portion of the liquor sales to the fundraiser, showing that they are always around to give back to society.
All attending bands showed keen interest as soon as they came to know of the charity fundraiser aspect for disabled children. All of these are extremely talented artists. Jake from Midnight Sinners is the lead vocalist and guitarist and also owns a tattoo shop (New Tribe Tattoo, located in Worth, IL), and will soon be managed by Mobbed Up Records.
Based in Chicago, IL, Mobbed Up Records is a full service record label. Set up to handle every aspect of music production and promotion, from management to distribution, it owns a recording studio as well. The label also produces and handles TV projects and movies. Its most recent and upcoming TV series is The Cigar Club. Apart from music, Mobbed Up Records has a complete clothing line and a top of the line Tequila product in collaboration with partners at El Nacimeinto Tequila.
The coming year 2020 will see Mobbed Up Records throw several concerts in many genres. The most recent one was a rap concert in June called The Summer Wave, which had over 5,000 attendees.
For more information, please visit: www.mobbedupinc.com or https://www.ticketweb.com/event/rock-out-for-the-children-the-forge-tickets/9948835
Media Contact
Company Name: Mobbed up Records
Contact Person: Gino Gallela
Email: Send Email
Country: United States
Website: https://www.facebook.com/events/552875582115707/?ti=as